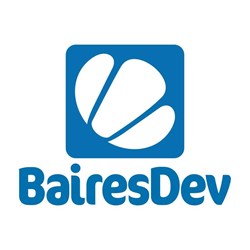 Technical Sales Manager
BairesDev
Expira 30/11/2018

Cualquier País
Esta oferta de trabajo ha expirado
Detalle de la Oferta
| | |
| --- | --- |
| Área de la Empresa | Tecnologias de Informacion |
| Cargo Solicitado | Gerente de Ventas Técnicas |
| Puestos Vacantes | 4 |
| Tipo de Contratación | Cualquier tipo de contratación |
| Nivel de Experiencia | de cinco a diez años |
| Salario máximo (USD) | |
| Salario minimo (USD) | |
| Vehículo | Indiferente |
| País | Cualquier País |
| Departamento | cualquier departamento |
Descripción de la Oferta
At BairesDev, a technology services company that employs only the Top 1% talent in Latin America, we are currently looking to hire professionals with good networks that they could benefit from by exploring their contacts' interest in hiring our services and organizing meetings between them and our Sales Managers. We seek professionals who can hit the ground, running from day one and are excited to be part of a company with such a rapid growth rate as ours. We also think it would be a very good opportunity for professionals with current active leads to take advantage of our great speed at presenting consultants in a wide range of roles and technologies.
BairesDev offers an excellent commissions structure, therefore, these professionals would be able to obtain very good economic rewards in a very short period of time, based on commissions received over their base salary.

Requirements
• American Citizen
• At least 5 years of experience in IT Sales or IT Business Development, selling nearshore IT Professional Services (If services were delivered from Latin America it would be a Big plus)
• An impressive network of potential new clients in the IT Industry and/or Verticals.
• Experience in 'opening doors' to new opportunities.
• Target driven and experience in networking with and influencing decision makers at the C-Level.
• A proven track record of revenue generation, client retention, and sales target achievement.
• Experience managing a P&L, including reporting and metric assessment for the business.
• Thorough understanding of marketing and negotiating techniques
• Fast learner and passionate for sales
• Ability to work independently as well as within a team
• Self-motivated with a results-driven approach
• Aptitude in delivering attractive presentations
If you think that is what you are looking for, do not hesitate to apply!

If at this time you are not looking for a new job challenge, but you know someone who would be a good candidate for this position, share this ad!

BairesDev is the fastest growing software development company in Latin America, with over 60% annual growth. With more than 500 employees working on different projects around the world, BairesDev has positioned itself as a leader in the industry. The company has offices in the main cities of Latam and the United States.
BairesDev receives over 52.000 new candidates every year and after an exhaustive selection process, employs only the top 1% most talented.

The company offers an outstanding work environment in which its employees can shine and thrive, working in multicultural teams with flexible schedules and constant growth opportunities.

If you want to work with the best professionals and the brightest minds in the IT industry, contact us.
Experiencia Requerida
Gerente de Ventas


(Opcional)
Gerente de Ventas Técnicas


(Opcional)
Educación Superior
Marketing | Mercadotecnia


(Opcional)

Diploma Técnico Completo
Ver más